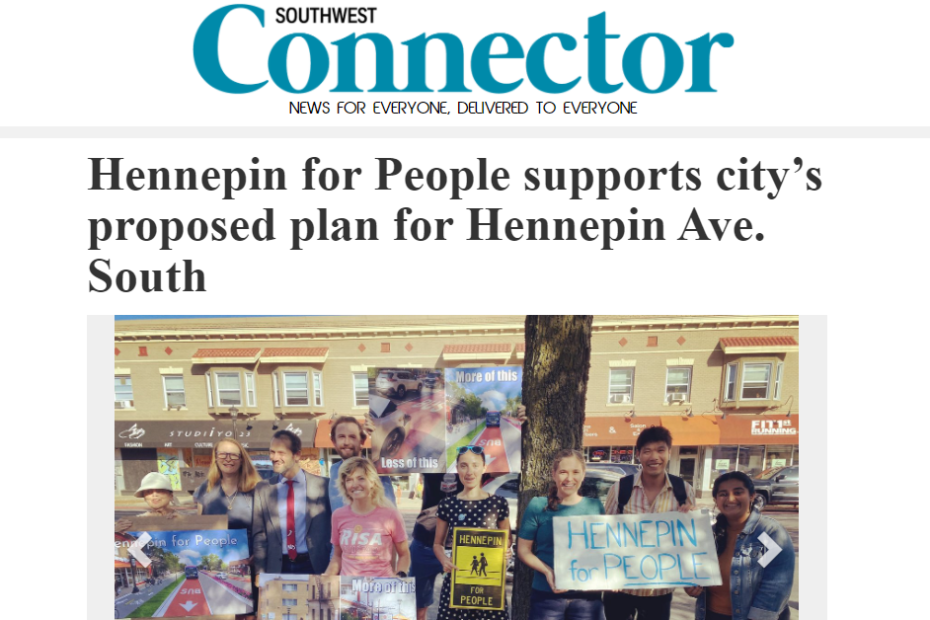 One of our co-founders answered questions from the SW Connector:
Question: Please talk about who you are, how you are connected to this area, and how you use Hennepin Ave.
Answer: I've lived in the Wedge neighborhood (just east of Hennepin Ave) for almost 10 years. I choose to live here because it's walkable to grocery stores, shops and other destinations. It's also served well by transit and has good biking infrastructure. I mainly experience Hennepin on foot or transit to access all our local businesses and to get to Lake of the Isles, Bde Maka Ska, Loring Park and the Sculpture Garden. I co-founded Hennepin for People because as a woman of color I know how our streets don't serve everyone well. For generations, city streets were built solely with car travel in mind, at the expense of the Black, brown, and Indigenous communities who experience the most traffic related fatalities (followed by seniors and children). I want a reconstructed Hennepin that ensures safe and comfortable passage for everyone who uses the street on a daily basis, no matter how they travel . And if you depend on your car, I care about your safety too. Nobody is served well by the high speeds and reckless behavior encouraged by the existing design of this street.
Read More »

Q&A with Hennepin for People