Hundreds of people will live in this building next to the Uptown Transit Station. How do we get them to choose the bus? The Minneapolis City Council, Mayor Frey, & Public Works Director Margaret Anderson Kelliher need to stick with their own staff recommended plan to put dedicated bus lanes on Hennepin Avenue.
The city's 2040 plan called for more housing to accommodate a growing population and a transportation system to support that growth. The goal is a system that encourages fewer car trips, not more. Doing one without the other — growth without transit — is a recipe for failure.
We know 51% of bus riders on local routes are people of color. We know bus riders are more likely to be low income or working class. Will the city follow through on its equity goals and prioritize the needs of these riders?
We know transit is a lifeline for disabled riders. According to a US DOT survey, the reason most often cited by disabled individuals who have difficulty getting the transportation they need: "no or limited public transportation."
We're spending $60 million on bus rapid transit in this corridor. This is a potential boon to our city's climate and equity goals— if we give it the space to be successful. Let's ensure these buses actually live up to the name "rapid."
We know that during peak times, bus riders are 49% of the people in vehicles on this stretch of Hennepin Avenue. This is a corridor with a large population of transit users. Let's build on the existing strengths of this neighborhood.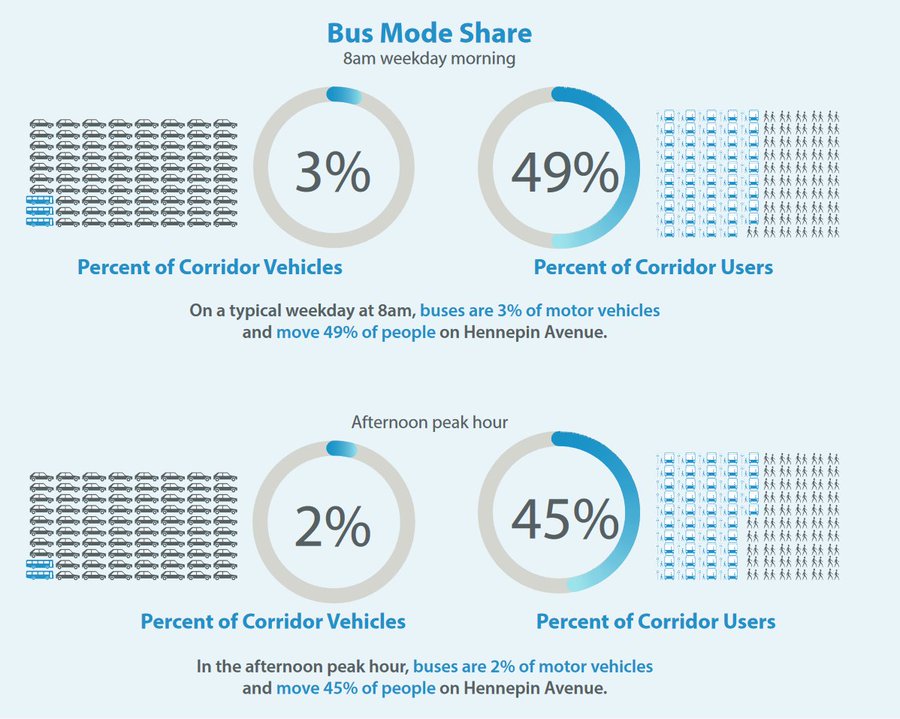 If there's any place in the city that needs full time bus lanes, it's right here. It's time to tell city leaders: stop working against your own policies, stop fighting your own staff recommendations, and follow through on the plans you adopted.
We're planning a street for the next 50 years! Will we build a street that allows us to meet our climate, transportation, and equity goals?