Frey administration withheld internal analysis of "risk to transit performance" that would result from converting bus lanes to parking.
As we wait for next Thursday's meeting (July 14th at 1:30 PM. Update: meeting delayed 2 weeks) of the City Council's Public Works and Infrastructure Committee – where Hennepin Ave is back on the agenda following Mayor Frey's veto of full-time bus lanes – we have some news.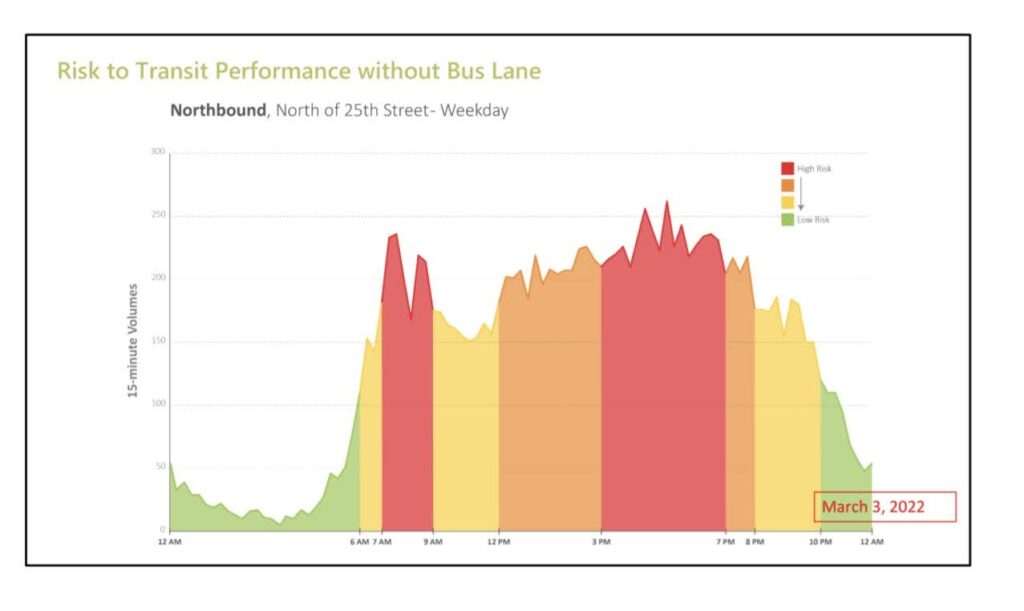 Thanks to a data request by interested resident Adam Wysopal, we know that in March, the city's Public Works Department analyzed the "risk to transit performance" without bus lanes on Hennepin. They found that converting the bus lane to parking posed a moderate to high risk through most of the day, from 6 am to 10 pm. This information comes from an internal presentation. To the best of our knowledge, this information has never been presented to the public or to the City Council as a body.
This should be no surprise. This is why the city's Public Works staff recommended full-time bus lanes. Why was this information not presented to the public? Why was it withheld from presentations to the City Council two months later?
We know that after four years of public engagement – including a year and a half during which the only options presented to the public included a full-time bus lane – plans for Hennepin Avenue were abruptly changed at the last minute. The city's professional staff were overruled. There was no public process in developing this new plan and little explanation for the dramatic shift. Now we know that as this change was being made, the city's own data showed a Hennepin Avenue without bus lanes for 18-20 hours per day posed a moderate to high risk to a $60 million transit project. That information shouldn't have been withheld.
In addition to this being a question of living up to our city's equity and sustainability commitments – this is also about whether decisions at city hall are made using data or by manipulating what's presented to the public and the elected members of the City Council.
Mayor Frey has vetoed full-time bus lanes, but the issue is far from settled. This is still in the hands of the City Council. Call (more impactful!) or email your council member, especially if you or anyone you know lives in wards represented by Andrew Johnson (12) and Emily Koski (11). Johnson is Chair of the Public Works and Infrastructure Committee and has voted to support full-time lanes. Koski is Vice Chair and has voted against. Tell the City Council it's time for transparency and an honest assessment when Hennepin Avenue comes back to committee on Thursday.