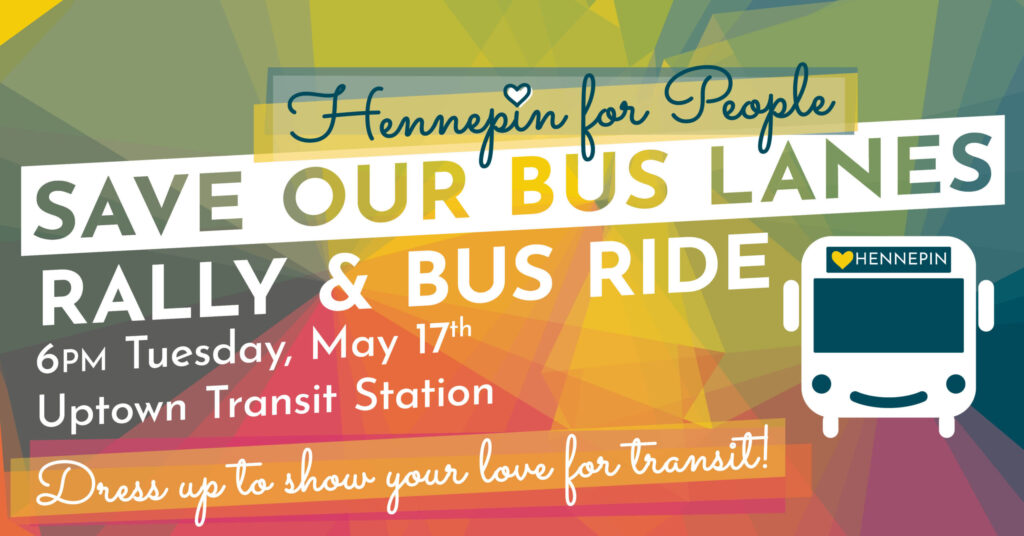 The recommendation from the city's professional traffic engineers and public works staff is for dedicated 24/7 bus lanes on Hennepin Avenue. This recommendation is based on the city's already adopted transportation and climate policies. After a year of delays on the reconstruction approval, there's an effort at city hall to strip 24/7 bus lanes from the plan. We're hearing that a City Council vote could happen as early as this month. We need to keep the pressure on elected officials to support transit riders, especially on a corridor that has a higher proportion of them than anywhere else in the city. Better, faster, more convenient transit means more riders. This is the path to meet our city's adopted transportation and climate goals. The state is investing $60 million to upgrade service on Hennepin Avenue to bus rapid transit. Our city has an opportunity to construct a street and a system that supports that investment. We can build something that lives up to the name "rapid." Let's demand our city's leaders follow through on their commitments to support transit!
Save Our Hennepin Bus Lanes — Rally and Bus Ride
Tuesday, May 17th at 6 PM
Uptown Transit Station
Come show your support for transit and 24/7 bus lanes at the rally! Afterwards we'll hop on a bus for a group ride on Hennepin Avenue.