We had great turnout for our Hennepin Awareness rally to support dedicated bus lanes, a protected bike path, and pedestrian improvements.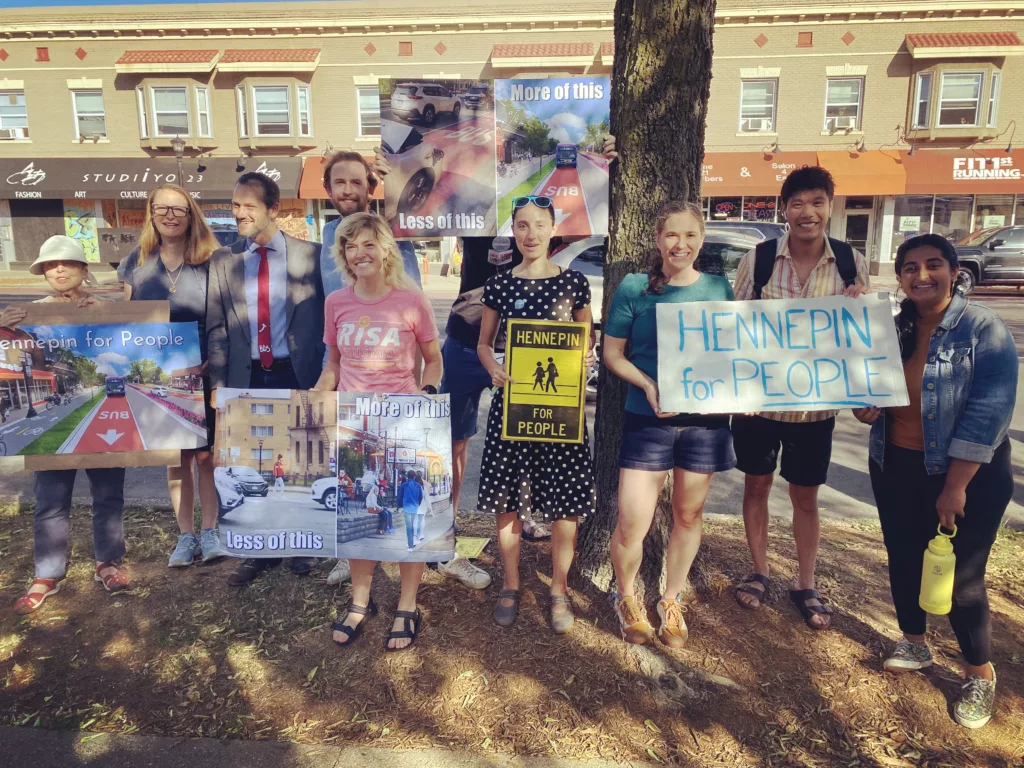 Many thanks to our speakers and guests: Move Minnesota's Executive Director Sam Rockwell, Mary Morse Marti, Park Board District 4 Commissioner Jono Cowgill, Hennepin County District 3 Commissioner Marion Greene, Council President Lisa Bender, Katie Jones (Ward 10 candidate), Risa Hustad (Park Board candidate), Aisha Chughtai (Ward 10 candidate), Nick Kor (Ward 7 candidate), and Pine Salica (Board of Estimate and Taxation candidate).
The above video taken during our event (around 5:30 pm on a Friday) is just one relatively tame example of the kind of thing that has become routine. The driver did this once, then returned to do it a second time, which someone was able to capture on video. Our streets shouldn't be designed in a way that invites dangerous driver behavior. This street is poorly designed. It's too wide and too fast. Hennepin Avenue is a daily hazard for everyone who uses the street. Our vision is an inclusive street that works for people, no matter how they travel!
Our goal remains dedicated space for transit and bikes, as well as pedestrian improvements. We continue to push the City Council and Public Works for a vote on the Hennepin layout this year — but can only accomplish this with your help. Sign our petition!